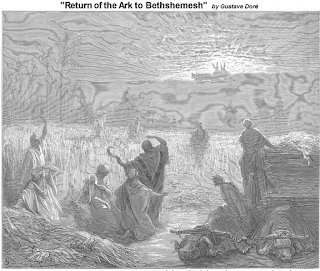 "Return of the Ark" - Gustave Dore (1 Samuel 6:13)
TODAY'S SPECIAL:
Acts 27-28
;
Psalm 132
TO CHEW ON:
"Behold we heard of it in Ephratheh
We found it in the fields of the woods." - Psalm 132:6
What is the "it" the psalmist is talking about?
It
is the ark—that box that symbolized the presence of God among the Israelites.
The first verses of this psalm refer to specific stories about the ark that pilgrims marching to Jerusalem* would have known. They recall the time that David vowed to bring the ark back to Jerusalem. They remember an even earlier time when Samuel located it in
"the field of the woods,"
that is, Kirjath Jearim ("City of Forests") - 1 Samuel 7:1,2.
What's the point of bringing up these memories? It is to help the people get a vision for their future with God (Psalm 132:11-18).
Eugene Peterson enlarges on this psalm in
A Long Obedience in the Same Direction
. He says about the importance of memory in matters of faith:
"This history is important, for without it we are at the mercy of whims. Memory is a databank we use to evaluate our position and make decisions. With a biblical memory we have two thousand years of experience from which to make the off-the-cuff responses that are required each day in the life of faith.

"[...] The past is not, for the person of faith, a restored historical site that we tour when we are on vacation; it is a field that we plow and harrow and plant and fertilize and work for a harvest" - Eugene Peterson, A Long Obedience in the Same Direction, pp. 166, 168 (emphasis added).
What are we facing today that is making us nervous, upset, panicky, desperate, scared?
Let's recall
our history with God and how He has proved Himself faithful to help us in the past.
Let's obey
His instructions to us, whatever they are in the situation. Maybe it's to:
acknowledge Him and trust Him for directions (Proverbs 3:5-6).
pray and not worry (Philippians 4:6-7).
tell the truth and live with integrity (Matthew 5:37)
be single-hearted (Luke 6:13; James 1:5-8)
or ...
Peterson again:
"What we require is obedience—the strength to stand and the willingness to leap, and the sense to know when to do which. Which is exactly what we get when an accurate memory of God's ways is combined with a lively hope in his promises" - p. 171.
PRAYER:
Dear God, I bring the specific situation of ___ to You. You know the dis-ease I have in my spirit over it. Please settle me down as I remember Your faithfulness to me in the past. Help me to hear Your instructions about what to do (or perhaps it's to be still) and to obey. Amen.
PSALM TO PRAY:
Psalm 132
MORE: Defective memory
"A Christian with a defective memory has to start everything from scratch and spends far too much of his or her time backtracking, repairing, starting over. A Christian with a good memory avoids repeating old sins, knows the easiest way through complex situations and instead of starting over each day continues what was begun in Adam" - Peterson, p. 167 (emphasis added).
*This psalm is one of the "Songs of Ascent" which pilgrims sang as they went to Jerusalem to celebrate the yearly festivals.
********
Unless otherwise noted all Scripture quotations are taken from the New King James Version®. Copyright © 1982 by Thomas Nelson, Inc. Used by permission. All rights reserved.