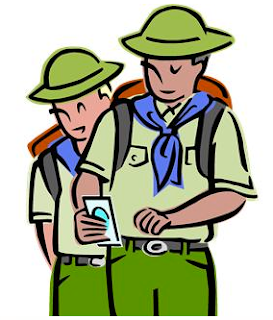 TODAY'S SPECIAL:
Isaiah 28-30
;
Psalm 115
TO CHEW ON:
"Your ears shall hear a voice behind you saying, 'This is the way, walk in it,' whenever you turn to the right hand or whenever you turn to the left." Isaiah 30:21
We love to be guided from the front. We are reassured by someone walking or driving ahead of us, clearly showing us the right way. But often God does not guide us that way.
Isaiah refers to God guidance as
"a voice behind you."
What does he mean by that? Commenters make a connection to a
"voice behind you"
with conscience and other metaphors:
"It is thought by some to be an allusion to schoolmasters, who stand behind their scholars, or at their backs, to guide, teach, and instruct them; and by others to shepherds following their flocks, who, when they observe any of the sheep going out of the way, call them back; or to travelers, who, coming to a place where are several ways, and being at a loss which way to take, and inclining to turn to the right or left, are called to by persons behind them, and directed in the right way." - Gill's Exposition of the Entire Bible.
Such
"voice behind you"
guidance has operated in my life in at least two ways.
Sometimes when I'm faced with a fork in the road, I simply make my decision, not thinking to pray about it. It's only later, as I reconsider what I've done—sit before God about it you could say—that I realize, what I did was not such a good thing. When this happens
I need to retrace my steps or change direction
.
At other times, that voice has been the voice of confirmation.
Sometimes I've taken on writing assignments for the simple fact that I've finished the last project and this one came along at just that time. There were no prophetic words, voices or holy thrills - not even a scripture verse on which to hang my hat. Not uncommonly I'll question whether I've made the right decision, especially when the writing gets tough or the piece gets turned down. Later, much later sometimes, I'll get confirmation that the project was a 'God thing' (it finally gets accepted, I get an email or note from someone saying it blessed them, it wins a prize, gets republished).
Have you had such
"voice behind you"
guidance in your life? How has it worked for you?
The comforting thing in all this is that God promises to guide us:
Psalm 25:9: "He guides the humble in what is right and teaches them his way."
Proverbs 3:6: "In all your ways acknowledge him, and he will make your paths straight."
Isaiah 48:17:

"This is what the LORD says—your Redeemer, the Holy One of Israel: "I am the LORD your God, who teaches you what is best for you, who directs you in the way you should go."
PRAYER:
Dear God, Thank You for Your promise of guidance. Help me to hear Your voice and to be willing to change direction if that is what You are saying. Amen.
PSALM TO PRAY:
Psalm 115
***************
Unless otherwise noted all Scripture quotations are taken from the New King James Version®. Copyright © 1982 by Thomas Nelson, Inc. Used by permission. All rights reserved.