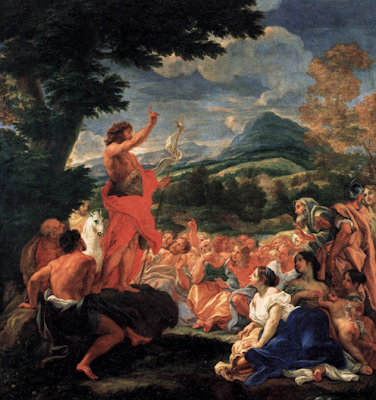 "The Preaching of John the Baptist" Baciccio, before 1695
TODAY'S SPECIAL:
Matthew 3:1-12
TO CHEW ON:
"In those days John the Baptist came preaching in the wilderness of Judea, and saying, 'Repent, for the kingdom of heaven is at hand!'" Matthew 3:1-2
What a fascinating character John the Baptist was! His birth ended years of prayerful childlessness for elderly Zacharias and Elizabeth. We're not told anything about the youth and upbringing of this
relative of Jesus
who was about six months older than He was. Here John just bursts on the scene at about 30 years of age. Our reading today gives us scope for a little study of the man, about whom the angel said to Zacharias, "
He will be great in the sight of the Lord.
"
1. He was direct
(Matthew 3:2)
No funny stories or jokes to warm up the crowd for this man. His sermons began with the toll of warning:
"Repent!"
2. His message was urgent
(Matthew 3:2-3)
"Repent, for the kingdom of heaven is at hand"
was his message.
"The 'kingdom' was near because the King was here" says Jack Hayford (New Spirit Filled Life Bible, p. 1293).
3. He was unconventional
(Matthew 3:4)
The angel told his parents to raise him as a Nazirite (Luke 1:15 cf. Numbers 6:3) — but I wonder if even they didn't raise their eyebrows at their son's attraction to the wilderness, his wardrobe of camel's hair and leather, his diet of wild honey. No doubt part of his magnetism for the crowds was his weirdness.
4. He was persuasive
(Matthew 3:6)
Once the people of Jerusalem, Judea, and all around the Jordan heard him, they responded with repentance, confession and requests for baptism.
5. He was fearless
(Matthew 3:7-10)
Had anyone before him talked to the Pharisees and Sadducees the way he did—calling them snakes, using sarcasm, exposing their sanctimony and hypocrisy, predicting their doom. Yikes!
6. He was insightful
(Matthew 3:7-12)
Not only did John have insights about the religious leaders, but He knew exactly who Jesus was, what He would do, the effect of His life. Where did this unschooled, outwardly uncouth man get such wisdom?
Let's pause here for a minute, to consider the intriguing wisdom that characterized John's life and its implications for us. About wisdom the Bible says:
The fear of the Lord is the beginning of it (Psalm 111:10).
God gives it (Proverbs 2:6; Daniel 2:21).
Isaiah predicted that Jesus (that

"root of Jesse"

we keep hearing about) would have the Spirit of it resting on Him (Isaiah 11:2).
As I was reading a bit about John the Baptist's beginnings this morning, I read this thing the angel said to Zachariah, before John was even born:
"He will also be filled with the Holy Spirit, even from his mother's womb" (Luke 1:15).
That's it! That's where his wisdom came from.
Real wisdom is only found in God (Colossians 2:3).
But we can ask for it (James 1:5).
This kind of wisdom is not of the humanistic, common sense, self-seeking variety (James 3:15-16).
It is not to be confused with human wisdom in the realm of philosophy or tradition that can so readily lead to deception (Colossians 2:6-10).
Rather, scripture is its source (2 Timothy 3:15)
The Holy Spirit is its teacher (1 John 2:27).
I don't know about you, but I want to be a lifelong student in this class! Wouldn't it be wonderful if God could say of us as He said about John:
"He/she is great in My sight"
?
PRAYER:
Dear Holy Spirit, thank You for being the teacher of true wisdom, understanding, counsel, and knowledge about God — His methods and plans, about truth and lies, about what really matters in life. Help me to be a quick and receptive student. Amen.