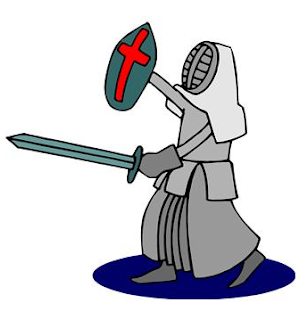 TODAY'S SPECIAL:
Daniel 7:15-28

TO CHEW ON:
"He shall speak pompous words against the Most High,
Shall persecute the saints of the Most High,
And shall intend to change times and law.
Then the saints shall be given into his hand
For a time and times and half a time." Daniel 7:25
Recently a local talk show host, responding to someone's suggestion that all references to God be removed from "O Canada," invited listeners to call in and say whether they believed in God or not.
Though the results seemed to slightly favour those who believed (I didn't count), the opinions expressed showed the polarization of the two sides at war in our reading today. Some of the anti-God diatribes could well have been labeled
"pompous words against the Most High."
No matter how much we would like to get along with everyone, beliefs about God's existence and what He is like will continue to divide us. Jack Hayford, in an explanation about Daniel 7, says that Daniel's prophecy and the warfare it describes
"…spans the spiritual struggle covering the ages through Messiah's First and Second Coming."
The concluding words of his commentary help us see where we fit in this 'fight to the finish':
"… an age-long struggle between 'the saints' and the power of evil in the world calls each believer to a commitment to steadfast battle, a mixture of victories with setbacks, and a consummate triumph anticipated at Christ's coming.

In the meantime we 'receive' the kingdom and pursue victories for our King, by His power making intermittent gains—all of which are based on 'the judgment' achieved through the Cross. See Revelation 12:10-11" - Jack Hayford, Old Testament, Possessing the Kingdom, New Spirit-Filled Life Bible, p. 1132 (emphasis added).
PRAYER:
Dear Jesus, when people come against me with scorn and mocking for my belief in You, help me to remember the big picture, to renew my faith in the victory of Your death and resurrection, and to keep pressing on with hope as I wait for Your "everlasting kingdom." Amen.
The Holy Bible, New King James Version Copyright © 1982 by Thomas Nelson, Inc. - Used with permission.